Save $300
E Wheels EW-M34 4-Wheel Scooter
$1,299.00
-

Description
E Wheels EW-M34 4-Wheel Scooter
A 4 wheel mobility electric scooter is a motorized mobility device designed to provide individuals with limited mobility a convenient and comfortable means of getting around. 4 wheel mobility electric scooter comes with various battery capacities, affecting the scooter's range per charge. Battery range is an essential consideration for users who need to travel longer distances.
If you are looking for a Electric 4 Wheel Scooter that is both affordable and stylish, look no further than the EW-M34! It's the best value, longest-range, and lightest-weight four-wheel travel scooter on the market today! (The heaviest piece is 28 lbs.) The EW-M34 can be mounted on a carrier for easy transport, or disassembled and stored in the back of the vehicle or trunk.
It disassembles in seconds with just 4 easy steps, making transporting it from one destination to another a breeze! Like magic, your scooter becomes 5 easy to carry pieces! For easy charging and to get you on the go fast, the battery can be charged on or off the scooter. The EW-M34 design, stability, and reliability make this scooter an excellent choice when looking to purchase a portable four-wheel scooter! Backed by our best-in-class warranty and service terms, the EW-M34 is manufactured with the same high-quality materials and craftsmanship that EWheels Medical is known for.
We have been making scooters for more than 10 years and every mobility scooter meets FDA criteria, goes through our rigorous inspection and quality control process for safety, durability, quality, and handling. What's more, every finish is lovingly crafted for the greatest visual appeal. If it doesn't turn heads, it's not ours! EWheels Medical, Quality you can count on, designs you can love!
Depending on the model, 4 wheel mobility electric scooter may be suitable for various terrains, including indoor surfaces, sidewalks, and some light outdoor environments. While not as compact as 3-wheel scooters, 4 wheel scooters are still designed to provide good maneuverability and easy handling.
Before purchasing a 4 wheel mobility electric scooter, it's crucial to evaluate factors like weight capacity, battery range, terrain compatibility, and additional features to ensure that the scooter meets your specific needs and preferences. 4 wheel mobility electric scooter offers individuals greater mobility and independence, enabling them to travel comfortably without relying on others.
The EW-34 is one of the best-selling portable scooters in the USA. It is reliable, easy to use and comfortable. On top of that, it is probably the best value for money on the market today if you are in need of a 4-wheel portable scooter. WATCH VIDEO BELOW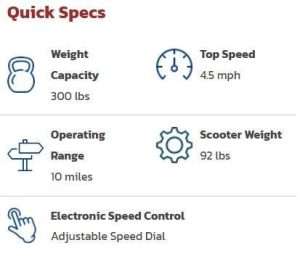 PRODUCT SPECIFICATION
| | |
| --- | --- |
| Warranty | 3 Year Limited |
| Weight Capacity | 300 lbs |
| Fully Assembled | Yes |
| Number of Wheels | 4 Wheels |
| FWD or RWD | Rear Wheel Drive |
| Airline Approved | No |
| Seat Dimenstions (LxWxH) | 17″ x 16″ |
| Type of Seat | Height adjustable swivel seat |
| Type of Battery | 2-12v 12ah deep cycle sealed lead acid |
| Overall Width | 20″ |
| Overall Height | 33″ |
| Overall Length | 39″ |
| Armrests | Yes |
| Scooter Weight | 92 lbs |
| Shipping Method | FedEx Ground |
| Top Speed (Up To) | 4.5 mph |
| Distance (Up To) | 10 miles |
| Light(s) | LED Headlight |
| Turning Radius | 60″ |
| Braking Type | Electomagnetic |
| Left Hand Control Option | Yes |
| Horn | Yes |
| Incline Capability | Up to 8 degrees |
| Ground Clearance | 2″ |
| Suspension | N/A |
| Type of Tires | Solid |
| Battery Charger | 24 volt Offbaord |
| Speed Control | Adjustable Speed Dial |
| Basket | Yes |
| Forward/Reverse | Yes |
| Throttle Type | Delta |
| Alarm | No |
| Front Tire Size | 8″ x 2.5″ |
| Cell Phone Holder | No |
| Usb Port | No |
| Voltage | 24 volts |
| Motor Wattage | 180 watt |
| Motor Type | Transaxle |
| Extras | Front Basket |
Shipping & Returns
SHIPPING:
Our goal is to offer you the best shipping options, no matter where you live. Every day, we deliver to hundreds of customers across the US, ensuring that we provide the very highest levels of responsiveness to you at all times.
(Please note that shipping to Hawaii and Alaska may be more expensive. if there is any changes in shipping rates for these two locations upon processing your order, we will contact you to further advise of your options.)
The time frame for order delivery is divided into two parts:
1: processing time.
Order verification, quality check, and packaging. Processing time usually takes 24-48 hours.
2: shipping time.
Once an order has shipped (24 to 72 hours) You will receive an email with the tracking number and the package should deliver to you within 5 business days.
For whichever reason you did not receive a tracking number within 72 hours, feel free to contact us at: info@topmedicalmobility.com
RETURNS:
We offer a 30-day return policy if you are not 100% satisfied with your product.
These are the products included in the 30-day return policy:
Electric wheelchairs.
Manual wheelchairs.
Lightweight wheelchairs.
Electric scooters.
Power lifts.
Walkers.
Rollators.
Patient Lifts
Wheelchair Ramps
Walkers & Rollators
To qualify for a return you will need to contact us first and obtain a RA# and return address.
All items must come back in their original packaging and in good/unused condition and must be received back at the warehouse within 30 days.
There is a 15% restocking fee and the customer is responsible for all shipping fees associated with the order.
Please note that all returns must be shipped back to us within 72 hours of receiving the return label or the return authorization. If the item is not sent out within 72 hours of return approval especially if the item comes back after the 30 days expires we will no longer be able to accept the return and the customer will be required to arrange for the item to be picked back up from us.
We do not currently offer returns for:
Wheelchair cushions.
Ultra-lightweight chairs.
Custom orders.
Parts.
Accessories.
Slings for patient lifts
Demo & Or Custom orders at discounted pricing.
in case you receive your Item damaged, we require that you get in touch with us within 48 hours of delivery to report the damages in order to consider it damage upon delivery.
(For items marked as custom orders please read in the bottom of this page)
Please note that we cannot take any cancellations and or returns on any custom orders (Items marked custom item) after production starts (24 hours)
If a customer refuses the package at the time of delivery, then the customer will be responsible for all shipping fees.
*Please note that during these difficult inflation times Items may take longer than usual to process and ship. your kind patience is much appreciated.
It is also Important to take note  that while we do offer free shipping on all items above $99 however, when ordering certain heavy Items to residential addresses there may be a liftgate delivery fee associated with the carrier amd or for other orders with special delivery.that we just pass on to you we will advise you after placing the order if that's the case.
** Custom Orders **
by ordering any item stated to be a custom product and or Top Medical Exclusive Item, you agree that we have a very strict return policy on items shipping overseas through custom ordered. For these special orders we will not accept any returns or refunds after placing an order. if an Item arrives damaged we will work directly with you to fully troubleshoot the product and to get all parts needed to make sure your product is in working and good condition. In case we are not able to get the product to work after making all efforts of troubleshooting and providing damaged parts (maximum 30 days) and or if it is determined that the item cannot be fixed then we will go ahead and issue a refund and or replace the device for you. We require you to report any shipping damages or defects within 48 hours of shipping.
Videos