Description
Permobil Acta-Embrace Back Cushion
The Acta-Embrace® comes with patented moldable aluminum stays for positioning, support, and pressure redistribution. The Acta-Embrace® is ideal for a complex user who needs a truly custom fit.
Features
Integrated trunk supports are attached to a planar aluminum backrest shell and may be adjusted for angle, height, and up to a total of 3″ of width to create a custom supportive shape.
Aluminum stays on the backside of the two layer foam pad can be molded to support lumbar, scoliosis, and kyphosis needs.
Aluminum stays are offset from center of cushion, removing pressure points from the spine.
9″ of total depth adjustment: 5″ in front of canes and 4″ behind the canes.
Lightweight durable aluminum shell comes with head support holes.
Provides pelvic and scapular relief.
Compatible with lateral hardware. A total of 11″ of pad width adjustment (5.5″ per side) and over 5″ of height adjustment.
Compatible with head support: 2″ wide x 1″ tall hole pattern.
Integrated chest harness strap guides or pre-drilled holes for optional extension strap guides.
Mobility Management Best Picks award winner 2016
FEATURES
Integrated trunk wings attach to a planar aluminum back support shell are adjustable for angle, height, and up to a total of 3" of width for standard wings and 1.5" for pediatric wings to create a custom supportive shape.
Moldable stays included for positioning, support, pressure redistribution and on-the-spot customization for a variety of spinal curvatures and changes in conditions.
Moldable stays on the backside of the two layer foam pad can be molded to support lumbar, scoliosis and kyphosis needs.
Moldable stays are offset from center of the back, removing pressure points from the spine.
Comes with integrated chest harness strap guides.
Durable aluminum shell comes with pre-drilled 2" x 1" head support hole pattern (BodiLink™ Head Support).
Compatible with lateral trunk support hardware. A total of 11" of pad width adjustment (5.5" per side) & over 5" of height adjustment. Lateral trunk supports (E0956) are optional & available.
STRETCH-AIR FABRIC
Designed for air transmission and heat reduction. This breathable laminate combines a high-stretch polyester top layer with a breathable vapor barrier.
COMFORT-TEK FABRIC
The fluid resistant exterior has supple leathery properties that provide an easily cleaned surface and protection for the inner cushion. Comfort-Tek has multi-dimensional stretch and helps alleviate pressure on bony prominences.
COLORED FABRIC PIPING
The Comfort-Tek and Stretch-Air covers are available with one of six accent colors: Blue, Green, Silver, Red, Purple, or Pink. Accent colors can be applied to the cushion via colored piping. If no colors are selected, our standard silver reflective piping is used. Additional fee applies.
COMPASS 4 HARDWARE
Fully adjustable for height, depth, and angle of recline.
Requires only 1.5″ of space on each cane for mounting purposes.
All adjustments can be made while the user is seated in the wheelchair, eliminating the need for multiple transfers during the fitting process.
Quick-release feature allows backrest to be removed vertically within seconds.
Hardware may be installed within minutes and fits 3/4″, 7/8″, and 1″ tubing.
Positive locking feature for angle rotation.
4 POINT
1. Cane mount fits 5 different cane diameters. Shorter strap that comes standard fits 3/4", 7/8" & 1" while longer strap provided (not pictured) fits 1 1/8" & 1 1/4".
2. Slot lock nut system prevents unwanted rotation.
3. Single design allows for easy adjustment with minimal fasteners.
4. Single slot design uses very little space, allowing other hardware to mount.
5. Minimal fasteners, but strong design.
6. Track systems prevent rotation, allowing features to nest together for additional stability.
7. Combination of aluminum and steel for ultralight hardware
Easy Installation
8″ height adjustability while user is in chair
Integrates every Acta-Series back support with the following power provider:
Quantum with TRU-Balance 3 Power Seating System

(PMB-QUANTUM)

Permobil with Corpus 3G Power Seating System

(PMB-PERMOBIL)

Quickie with 3.7 Power Seating System

(PMB-QUICKIE)

Rovi with Motion Concepts Power Seating System

(PMB-ROVI)
HCPCS Coding: E2613/E2614 or E2617
PRODUCT SPECIFICATION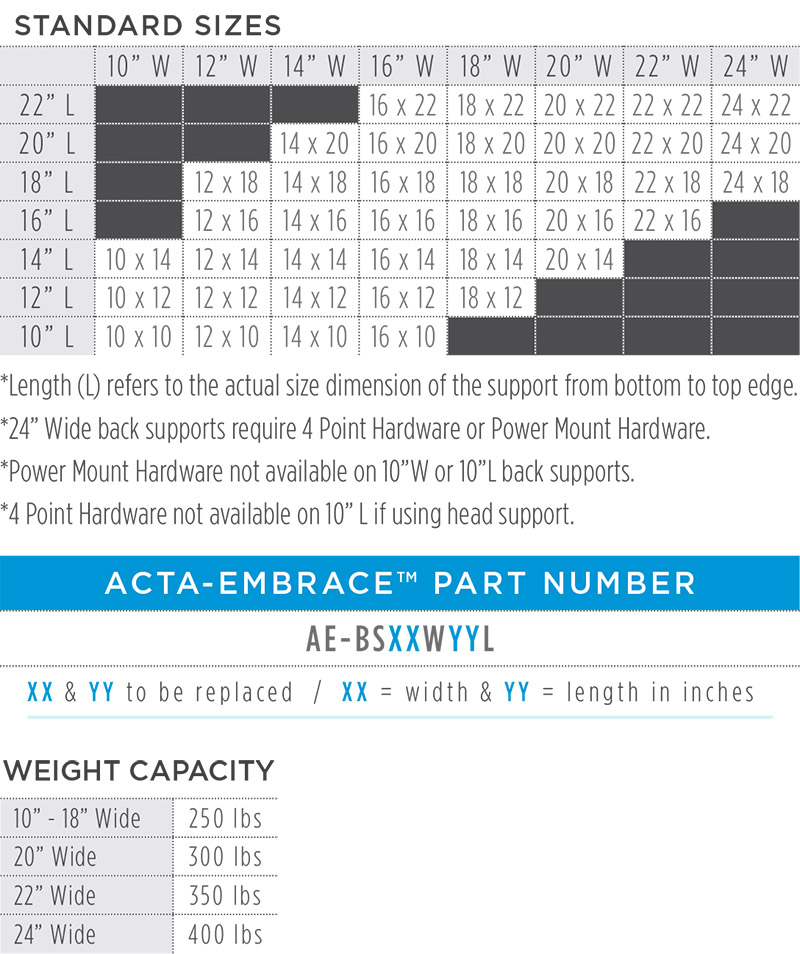 Shipping & Returns
SHIPPING:
Our goal is to offer you the best shipping options, no matter where you live. Every day, we deliver to hundreds of customers across the US, ensuring that we provide the very highest levels of responsiveness to you at all times.
(Please note that shipping to Hawaii and Alaska may be more expensive. if there is any changes in shipping rates for these two locations upon processing your order, we will contact you to further advise of your options.)
The time frame for order delivery is divided into two parts:
1: processing time.
Order verification, quality check, and packaging. Processing time usually takes 24-48 hours.
2: shipping time.
Once an order has shipped (24 to 72 hours) You will receive an email with the tracking number and the package should deliver to you within 5 business days.
For whichever reason you did not receive a tracking number within 72 hours, feel free to contact us at: info@topmedicalmobility.com
RETURNS:
We offer a 30-day return policy if you are not 100% satisfied with your product.
These are the products included in the 30-day return policy:
Electric wheelchairs.
Manual wheelchairs.
Lightweight wheelchairs.
Electric scooters.
Power lifts.
Walkers.
Rollators.
Patient Lifts
Wheelchair Ramps
Walkers & Rollators
To qualify for a return you will need to contact us first and obtain a RA# and return address.
All items must come back in their original packaging and in good/unused condition and must be received back at the warehouse within 30 days.
There is a 15% restocking fee and the customer is responsible for all shipping fees associated with the order.
Please note that all returns must be shipped back to us within 72 hours of receiving the return label or the return authorization. If the item is not sent out within 72 hours of return approval especially if the item comes back after the 30 days expires we will no longer be able to accept the return and the customer will be required to arrange for the item to be picked back up from us.
We do not currently offer returns for:
Wheelchair cushions.
Ultra-lightweight chairs.
Custom orders.
Parts.
Accessories.
Slings for patient lifts
Demo & Or Custom orders at discounted pricing.
in case you receive your Item damaged, we require that you get in touch with us within 48 hours of delivery to report the damages in order to consider it damage upon delivery.
(For items marked as custom orders please read in the bottom of this page)
Please note that we cannot take any cancellations and or returns on any custom orders (Items marked custom item) after production starts (24 hours)
If a customer refuses the package at the time of delivery, then the customer will be responsible for all shipping fees.
*Please note that during these difficult inflation times Items may take longer than usual to process and ship. your kind patience is much appreciated. 
It is also Important to take note  that while we do offer free shipping on all items above $99 however, when ordering certain heavy Items to residential addresses there may be a liftgate delivery fee associated with the carrier amd or for other orders with special delivery.that we just pass on to you we will advise you after placing the order if that's the case.
** Custom Orders **
by ordering any item stated to be a custom product and or Top Medical Exclusive Item, you agree that we have a very strict return policy on items shipping overseas through custom ordered. For these special orders we will not accept any returns or refunds after placing an order. if an Item arrives damaged we will work directly with you to fully troubleshoot the product and to get all parts needed to make sure your product is in working and good condition. In case we are not able to get the product to work after making all efforts of troubleshooting and providing damaged parts (maximum 30 days) and or if it is determined that the item cannot be fixed then we will go ahead and issue a refund and or replace the device for you. We require you to report any shipping damages or defects within 48 hours of shipping.
MANUAL/INSTRUCTIONS
Videos