Save $400
E Wheels EW-M30 Electric Wheelchair
$1,399.00
-

Description
E Wheels EW M30 Electric Wheelchair
The EW-M30 folding electric wheelchairs is designed with travel in mind, simply fold and travel! When folded, it can fit in spaces such as the trunk of a car or closet. This power chair gives you the freedom to travel without having to worry about vehicle lifts, heavy equipment, or dissembling a scooter. The E Wheels EW M30 Electric Wheelchair aluminum frame is both strong and durable, the 16 inch rear wheels provide added comfort and versatility. This chair travels up to 12 miles on a single battery charge and has a maximum speed of 3.7 mph. This is the best value chair on the market! Simply fold and travel!
The E Wheels EW M30 Electric Wheelchair is a modern and versatile mobility device designed to offer users enhanced mobility and convenience. With a focus on user comfort, advanced features, and ease of use, the EW M30 Electric Wheelchair provides individuals with mobility challenges the ability to navigate their environment with comfort and independence.
When considering the E Wheels EW M30 Electric Wheelchair, it's important to assess your specific mobility needs, lifestyle, and intended use. Consulting with healthcare professionals and mobility experts can help determine if this model aligns with your individual requirements, ensuring that the electric wheelchair enhances your mobility and overall well-being.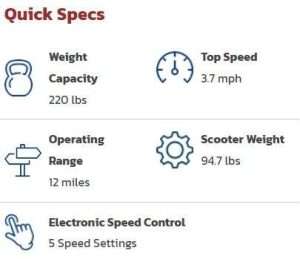 PRODUCT SPECIFICATION
| | |
| --- | --- |
| Warranty | 3 Year Limited |
| Weight Capacity | 220 lbs |
| Fully Assembled | No |
| Number of Wheels | 4 Wheels |
| FWD or RWD | Rear Wheel Drive |
| Airline Approved | No |
| Seat Dimenstions (LxWxH) | Width 17″ Depth 17.7″ |
| Type of Seat | Large Padded Comfort Seat |
| Type of Battery | 2-12v 20ah deep cycle sealed lead acid |
| Overall Width | 26.3″ |
| Overall Length | 38.1″ |
| Armrests | Yes |
| Scooter Weight | 94.7 lbs |
| Shipping Method | FedEx Ground |
| Top Speed (Up To) | 3.7 mph |
| Distance (Up To) | 12 miles |
| Light(s) | No |
| Braking Type | Electromechanical |
| Left Hand Control Option | Yes |
| Horn | No |
| Incline Capability | Up to 8 degrees |
| Suspension | N/A |
| Type of Tires | Pneumatic |
| Battery Charger | 24 volt |
| Speed Control | 5 Speed Settings |
| Basket | No |
| Forward/Reverse | No |
| Throttle Type | joy stick |
| Alarm | No |
| Front Tire Size | 7 " |
| Cell Phone Holder | No |
| Usb Port | No |
| Voltage | 24 volt |
| Motor Wattage | 250 watt x2 |
| Motor Type | Two Hub Motors |
| Extras | Seat belt, Back Seat Pocket |
Shipping & Returns
SHIPPING
Our goal is to offer you the best shipping options, no matter where you live. Every day, we deliver to hundreds of customers across the world, ensuring that we provide the very highest levels of responsiveness to you at all times. (Please note that shipping to Hawaii and Alaska may be more expensive. if there is any changes in shipping rates for these two locations upon processing your order, we will contact you to further advise of your options.)
The time frame for order delivery is divided into two parts:
1: Processing time.
Order verification, quality check, and packaging.
Processing time usually takes 24-48 hours.
2: Shipping time.
Once order has shipped (24 to 72 hours)
You will receive a email with the tracking number and package should deliver to you within 5 business days.
For whichever reason you did not receive a tracking number within 72 hours, feel free to contact us at: info@ezmedbuy.com
RETURNS
We offer a 30 day return policy if you are not 100% satisfied with your product.
These are the products included in 30 day return policy:
Electric wheelchairs.
Manual wheelchairs.
Lightweight wheelchairs.
Electric scooters.
Power lifts.
Walkers.
Rollators.
To qualify for a return you will need to contact us first and obtain a RA# and return address.
All items must come back in its original packaging and in good/unused condition and must be received back in our warehouse within the 30 days.
There is a 15% restocking fee plus the original shipping fee for all returns and the customer is responsible for return shipping.
We do not currently offer returns for:
Wheelchair cushions.
Ultra lightweight chairs.
Custom orders.
Parts.
Accessories.
in case if you receive your Item damaged, we require that you get in touch with us within 72 hours of delivery to report the damages in order to consider it damage upon delivery.
If a customer refuses the package at the time of delivery, then the customer will be responsible for all shipping fees.