Joerns UltraCare XT Bed
$2,439.00 – $2,821.00
-

Description
Joerns UltraCare XT Bed
The Joerns UltraCare XT Bed is a specific model of hospital bed designed for providing comfort, safety, and functionality in healthcare settings. Joerns Healthcare is a reputable manufacturer of medical equipment, including hospital beds and patient care products.
A Joerns hospital bed is a symbol of comfort and care in healthcare settings. These beds are meticulously designed to provide patients with the utmost comfort, safety, and mobility. With adjustable features and durable construction, Joerns hospital bed offers healthcare professionals the flexibility they need to provide the best possible care. Patients can rest easy knowing they are in a bed that prioritizes their well-being and recovery. Joerns has a longstanding reputation for quality in the medical equipment industry, making their hospital beds a trusted choice for healthcare facilities worldwide.
XTRIL80GRA – 35″ x 80″, 3-Prong Ground Plug, Advanced User Controls, Roll in Low Only, 500 lb. SWL
XTULHF80GRA – UCXT Frame – 35″ x 80″, 3-Prong Ground Plug, Advanced User Controls, UltraLock (Roll at any Height), 500 lb. SWL
The Joerns UltraCare XT Bed is commonly used in hospitals, long-term care facilities, and home care settings to provide patients with a comfortable and supportive sleeping environment, while also facilitating caregiving tasks for healthcare professionals.
One bed. A total solution.
The evolutionary UltraCare XT is one bed with the ability to adapt to many resident care environments. Through a remarkable combination of performance, function and style, the UltraCare XT can be easily transformed to fit any configuration or room style. Upgrade to suit your facility's needs. Choose options such as SafeLight, UltraLock and UltraWide or experience other great features to customize your UltraCare XT bed.
Travel range of 7″ to 30″
Roll at any height capability with the UltraLock™ option
Standard with QuickCare that increases staff efficiency
Ergonomic and Intuitive User Controls
Comfort Width Extension
Residential Aesthetics with Optional Residential Trim Kit
Safe Working Load: 500 lbs.
FEATURES OF JOERNS HOSPITAL BED
Toroidal architecture engineering of the bed's steel frame is up to 30 times stronger than angle iron
AdvanceCare positioning offered as a standard feature with integrated pendant connections on both sides of mattress support platform
Optional Staff Control offers advanced clinical control, safety lockouts and ergonomic functionality
Extendable four-section mattress support platform offers full range of comfort and therapeutic positions, which may reduce skin shear
Attractive Joerns UltraCare XT Bed panel options available in a wide array of designs and finishes
UltraLock is available at the foot end or both the head and foot to maximize security or mobility at any height
ADDITIONAL INFORMATION
Joerns UltraCare XT Bed length 80″
Bed width 35″ or 42″ with UltraWide kit
Bed weight 220 lb
Bed weight capacity 500 lb
Operating capacity 500 lb
Underbed clearance 23¾"
Sleep surface travel range 7″ to 30″
Max. back angle 65 degrees to horizontal
Max. knee angle 35 degrees to horizontal
Max. knee to leg angle 45 degrees
Safety standards: UL60601-1, CAN/CSA C22.2 no. 601.1, IEC 60601-2-52, CAN/CSA C22.2 no. 601.2.52
As with any medical equipment, it's essential to follow the manufacturer's guidelines for proper usage, maintenance, and safety. If you are considering the Joerns UltraCare XT Bed or any other hospital bed, it's advisable to consult with healthcare professionals or representatives from Joerns Healthcare to determine the best bed model for your specific needs and requirements.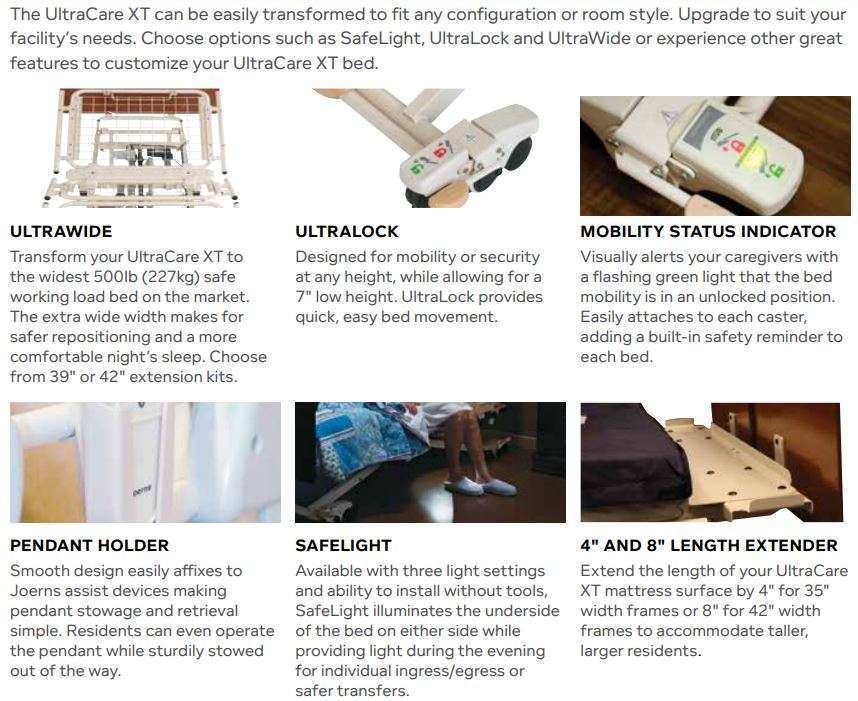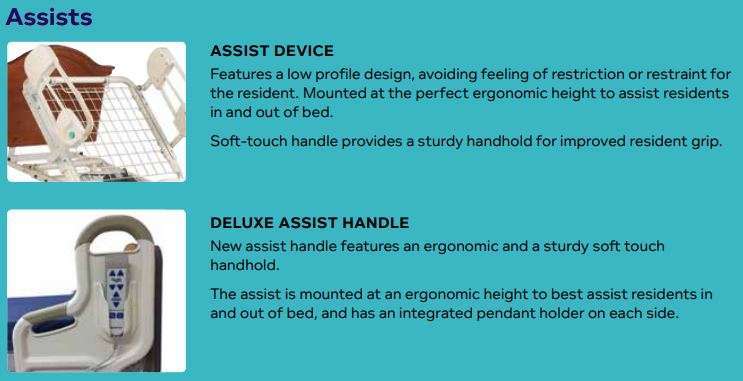 PRODUCT SPECIFICATION
Shipping & Returns
SHIPPING:
Our goal is to offer you the best shipping options, no matter where you live. Every day, we deliver to hundreds of customers across the US, ensuring that we provide the very highest levels of responsiveness to you at all times.
(Please note that shipping to Hawaii and Alaska may be more expensive. if there is any changes in shipping rates for these two locations upon processing your order, we will contact you to further advise of your options.)
The time frame for order delivery is divided into two parts:
1: processing time.
Order verification, quality check, and packaging. Processing time usually takes 24-48 hours.
2: shipping time.
Once an order has shipped (24 to 72 hours) You will receive an email with the tracking number and the package should deliver to you within 5 business days.
For whichever reason you did not receive a tracking number within 72 hours, feel free to contact us at: info@topmedicalmobility.com
RETURNS:
We offer a 30-day return policy if you are not 100% satisfied with your product.
These are the products included in the 30-day return policy:
Electric wheelchairs.
Manual wheelchairs.
Lightweight wheelchairs.
Electric scooters.
Power lifts.
Walkers.
Rollators.
Patient Lifts
Wheelchair Ramps
Walkers & Rollators
To qualify for a return you will need to contact us first and obtain a RA# and return address.
All items must come back in their original packaging and in good/unused condition and must be received back at the warehouse within 30 days.
There is a 15% restocking fee and the customer is responsible for all shipping fees associated with the order.
Please note that all returns must be shipped back to us within 72 hours of receiving the return label or the return authorization. If the item is not sent out within 72 hours of return approval especially if the item comes back after the 30 days expires we will no longer be able to accept the return and the customer will be required to arrange for the item to be picked back up from us.
We do not currently offer returns for:
Wheelchair cushions.
Ultra-lightweight chairs.
Custom orders.
Parts.
Accessories.
Slings for patient lifts
Demo & Or Custom orders at discounted pricing.
in case you receive your Item damaged, we require that you get in touch with us within 48 hours of delivery to report the damages in order to consider it damage upon delivery.
(For items marked as custom orders please read in the bottom of this page)
Please note that we cannot take any cancellations and or returns on any custom orders (Items marked custom item) after production starts (24 hours)
If a customer refuses the package at the time of delivery, then the customer will be responsible for all shipping fees.
*Please note that during these difficult inflation times Items may take longer than usual to process and ship. your kind patience is much appreciated.
It is also Important to take note  that while we do offer free shipping on all items above $99 however, when ordering certain heavy Items to residential addresses there may be a liftgate delivery fee associated with the carrier amd or for other orders with special delivery.that we just pass on to you we will advise you after placing the order if that's the case.
** Custom Orders **
by ordering any item stated to be a custom product and or Top Medical Exclusive Item, you agree that we have a very strict return policy on items shipping overseas through custom ordered. For these special orders we will not accept any returns or refunds after placing an order. if an Item arrives damaged we will work directly with you to fully troubleshoot the product and to get all parts needed to make sure your product is in working and good condition. In case we are not able to get the product to work after making all efforts of troubleshooting and providing damaged parts (maximum 30 days) and or if it is determined that the item cannot be fixed then we will go ahead and issue a refund and or replace the device for you. We require you to report any shipping damages or defects within 48 hours of shipping.
MANUAL/INSTRUCTIONS