Description
Permobil M2 ATI Anti-Thrust Cushion with Glidewear
E2624/E2625: Skin protection and positioning, adjustable
The M2 with ATI offers advanced positioning support with its deep lateral and medial leg contours as well as tapered leg adductors for pelvic stability. Constructed with dual density foam, a molded foam base, and a QuadraGel pack to redistribute pressure. Available in Zero Elevation or Anti-Thrust. Featuring a moldable metal ATI designed to add additional support where needed and can be adjusted as your needs change.
FEATURES
Tapered adductors increase in width near the rear of the cushion to give support to the greater trochanters.
Deep lateral and medial leg contours promote postural alignment.
Coccyx relief cutout reduces pressure on the tailbone and spine.
Non-skid bottom fabric offers hook and loop attachment.
Constructed with dual density foam, a molded foam base, and Quadra3D® Gel pack.
Moldable ATI base allows for on-site customization to effectively meet the needs of the user. The dynamic nature of input provides positioning support while allowing for movement. The ATI base can be remolded to meet changes in both physical and functional needs.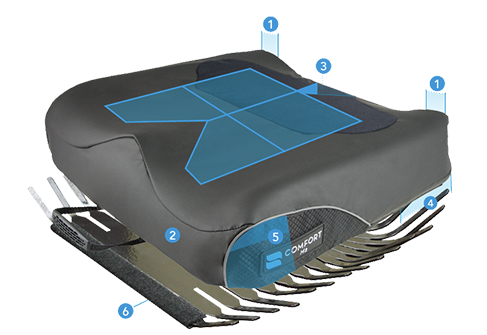 QUADRA3D GEL PACK
The pressure-relieving Quadra3D gel pack reduces shear forces and heat build-up. Includes four three-dimensional compartments that evenly distributes gel under the seated surface.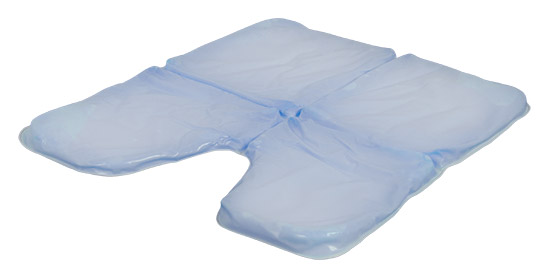 CUSHION STYLES
ZERO ELEVATION – The M2 Zero Elevation cushion allows for greater freedom of movement for standard positioning issues.
ANTI-THRUST – The M2 Anti-Thrust cushion provides anterior pelvic build-up to prevent forward migration.

COVER TECHNOLOGY

A new cover option adapted from leading prosthetics technology, GlideWear is designed to promote healing and reduce the risk of Pressure Injury through the use of the Shear Reduction Zone.
GlideWear provides:
Reduction of shear forces to increase skin protection
100% breathability for microclimate control
Improved comfort from reduced friction
The GlideWear technology option is available as an embedded upgrade to Stretch-Air & Comfort-Tek fabric options. Latex free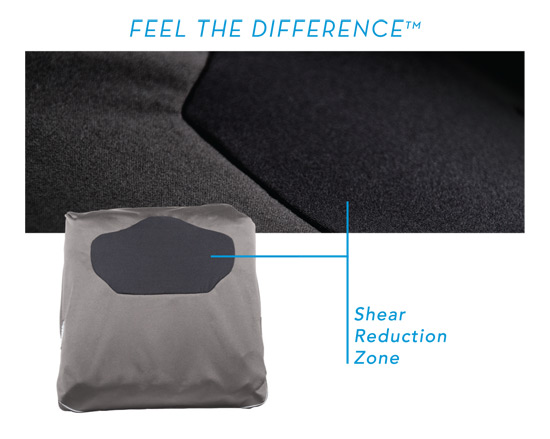 BE SEEN, BE SAFE
Comfort Company backrests and cushions feature reflective piping to ensure we are doing our part to promote safety and protect the wheelchair user. Reflective piping has the ability to return a large portion of light directly back to the source it came from, allowing it to be seen from up to 500 feet away in low light conditions. Make sure you are visible.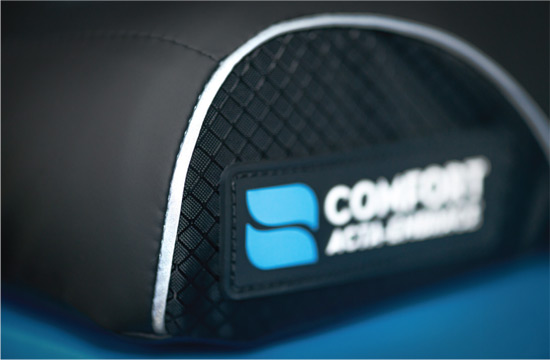 COVER OPTIONS
STRETCH-AIR
Designed to be airy and breathable with a superior stretch. Stretch AirTM provides heat dissipation for comfort while the multi-directional stretch contributes to pressure relief by allowing the user to gain the full benefit of the back support or cushion design. Latex-free.

COMFORT-TEK
Designed for infection control and as an incontinence barrier, this Polyurethane material has a smooth and extremely soft top layer with a high-stretch Polyester backing. It is an easily cleaned surface using most common disinfectants. Latex free.

PRODUCT SPECIFICATION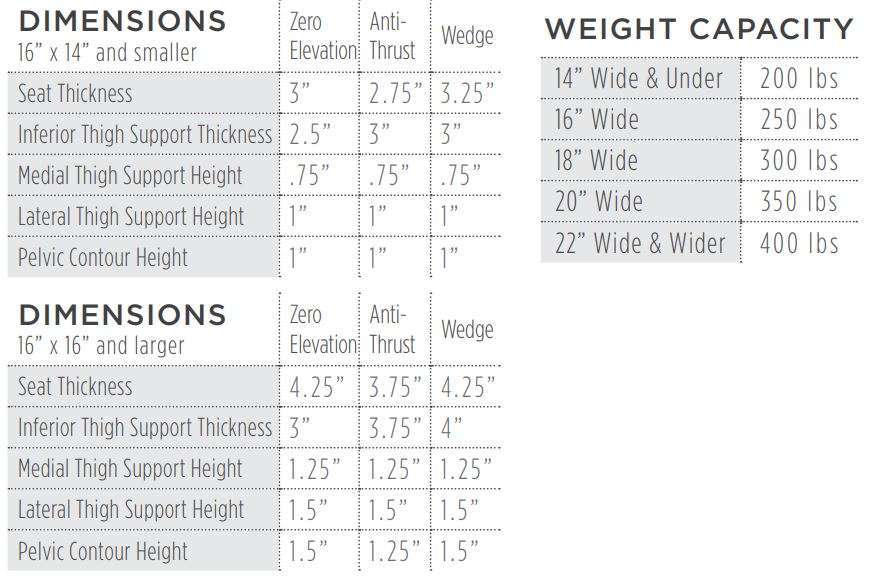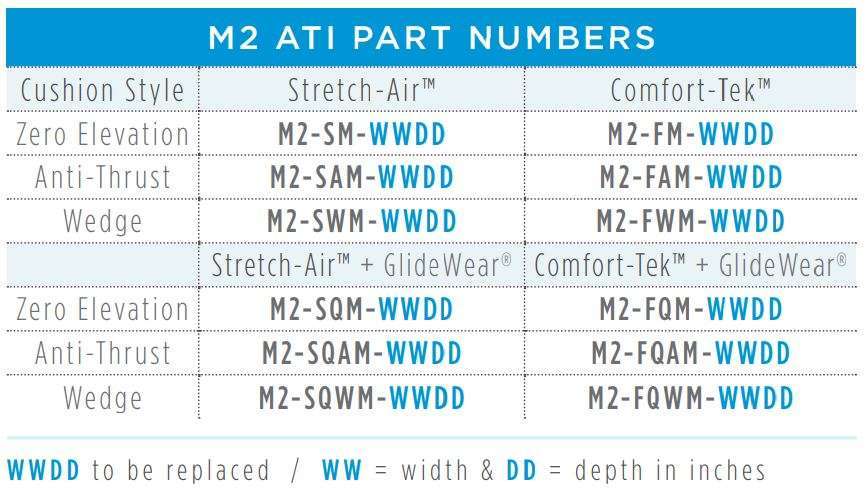 Shipping & Returns
SHIPPING:
Our goal is to offer you the best shipping options, no matter where you live. Every day, we deliver to hundreds of customers across the US, ensuring that we provide the very highest levels of responsiveness to you at all times.
(Please note that shipping to Hawaii and Alaska may be more expensive. if there is any changes in shipping rates for these two locations upon processing your order, we will contact you to further advise of your options.)
The time frame for order delivery is divided into two parts:
1: processing time.
Order verification, quality check, and packaging. Processing time usually takes 24-48 hours.
2: shipping time.
Once an order has shipped (24 to 72 hours) You will receive an email with the tracking number and the package should deliver to you within 5 business days.
For whichever reason you did not receive a tracking number within 72 hours, feel free to contact us at: info@topmedicalmobility.com
RETURNS:
We offer a 30-day return policy if you are not 100% satisfied with your product.
These are the products included in the 30-day return policy:
Electric wheelchairs.
Manual wheelchairs.
Lightweight wheelchairs.
All other Wheelchairs
Electric scooters.
Power lifts.
Walkers.
Rollators.
Patient Lifts
Wheelchair Ramps
Walkers & Rollators
Hospital/Home Care Beds
Mattresses
Geri Chairs
Overbed tables
Bathroom Transfer Benches
To qualify for a return you will need to contact us first and obtain a RA# and return address.
All items must come back in their original packaging and in good/unused condition and must be received back at the warehouse within 30 days.
There is a 15% restocking fee and the customer is responsible for all shipping fees associated with the order.
Please note that all returns must be shipped back to us within 72 hours of receiving the return label or the return authorization. If the item is not sent out within 72 hours of return approval especially if the item comes back after the 30 days expires we will no longer be able to accept the return and the customer will be required to arrange for the item to be picked back up from us.
We do not currently offer returns for:
Wheelchair cushions.
Cushions.
Ultra-lightweight chairs.
Custom orders.
Parts.
Any Accessories.
Slings for patient lifts
Demo & Or Custom orders at discounted pricing.
Personal Care items
in case you receive your Item damaged, we require that you get in touch with us within 48 hours of delivery to report the damages in order to consider it damage upon delivery.
(For items marked as custom orders please read in the bottom of this page)
Please note that we cannot take any cancellations and or returns on any custom orders (Items marked custom item) after production starts (24 hours)
If a customer refuses the package at the time of delivery, then the customer will be responsible for all shipping fees.
*Please note that during these difficult inflation times Items may take longer than usual to process and ship. your kind patience is much appreciated. 
It is also Important to take note  that while we do offer free shipping on all items above $99 however, when ordering certain heavy Items to residential addresses there may be a liftgate delivery fee associated with the carrier amd or for other orders with special delivery.that we just pass on to you we will advise you after placing the order if that's the case.
** Custom Orders **
by ordering any item stated to be a custom product and or Top Medical Exclusive Item, you agree that we have a very strict return policy on items shipping overseas through custom ordered. For these special orders we will not accept any returns or refunds after placing an order. if an Item arrives damaged we will work directly with you to fully troubleshoot the product and to get all parts needed to make sure your product is in working and good condition. In case we are not able to get the product to work after making all efforts of troubleshooting and providing damaged parts (maximum 30 days) and or if it is determined that the item cannot be fixed then we will go ahead and issue a refund and or replace the device for you. We require you to report any shipping damages or defects within 48 hours of shipping.
MANUAL/INSTRUCTIONS
Videos