Triumph Mobility Escape Rollator
$399.95
-

Description
Triumph Mobility Escape Rollator
Let Escape turn a world of obstacles into a future of possibilities!
Escape is available in three seat heights to fit almost any user. It boasts a compact folding system that is easy to initiate with a simple lift of the release handle. This design makes it easier to lift into the trunk of a car and, as an added benefit, it also stands when folded for easy storage.
About Escape Rollator
Escape is a breeze to use. Adjusting the handle height is easy thanks to spring-loaded levers. The pressure-reducing anatomical handgrips maintain your hand strength and the brakes are the easiest-to-apply hand brakes available on any rollator. This innovative braking system also has no cables to catch on objects or get in your way.
When it's time to take a break, Escape offers a large, padded backrest with an adjustable depth and a large padded seat for added comfort. Let Escape be your next travel companion!
How is the Escape different?
It can remain standing while folded and locked, taking up less space.
It can hold weight while slightly or fully folded to fit through tight doorways.
The arms have a gentle seven-percent slope, reducing stress on wrists and putting the user's hands in a more natural position.
The brakes are the easiest to apply on the market, perfect for people with reduced hand strength.
Its hand grips are wider than normal, allowing the user to spread their weight wider across their palm.
The Escape is easier to lift into a car than most similar devices.
Features
Light weight, strong T frame, aluminum construction
Large padded seat for added comfort
Adjustable padded backrest
Folding shopping bag
Easy to apply, cable-free brakes
Easy to navigate with large 8" wheels
Easy to Adjust Handle Height
Anatomical Handles
Curb Climber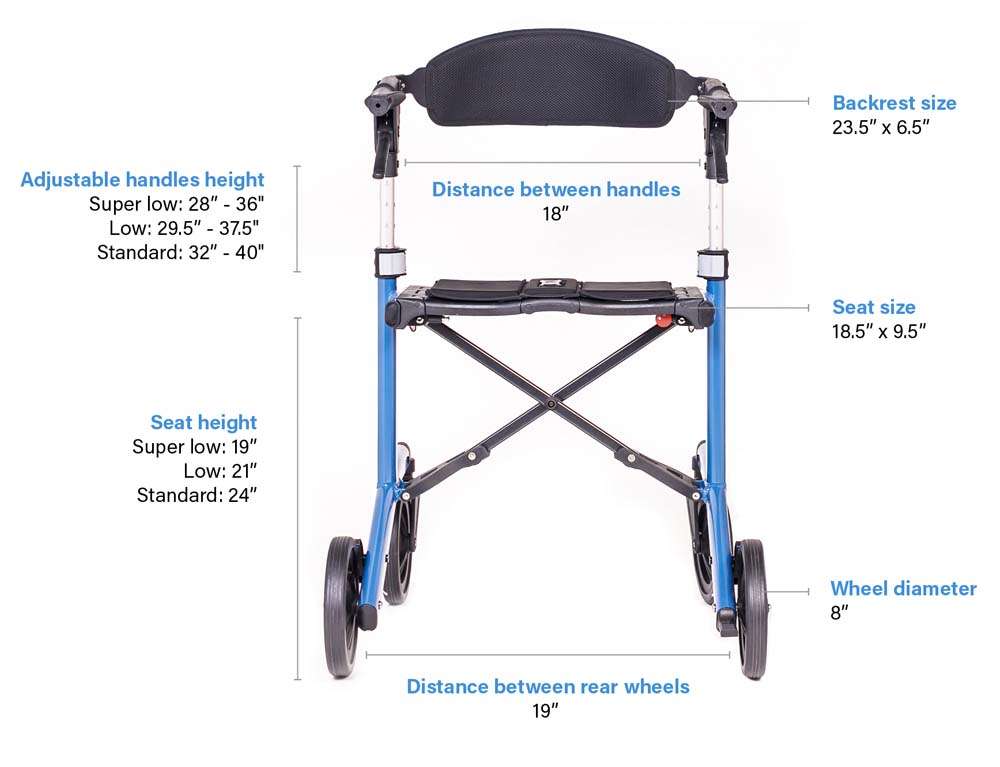 PRODUCT SPECIFICATION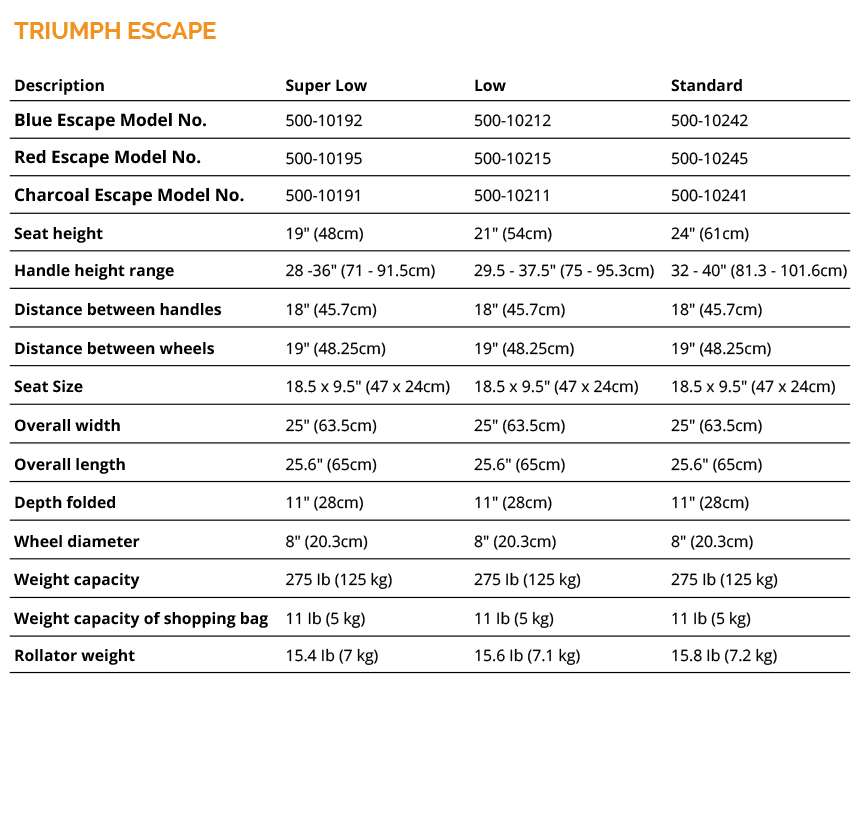 Shipping & Returns
SHIPPING:
Our goal is to offer you the best shipping options, no matter where you live. Every day, we deliver to hundreds of customers across the US, ensuring that we provide the very highest levels of responsiveness to you at all times.
(Please note that shipping to Hawaii and Alaska may be more expensive. if there is any changes in shipping rates for these two locations upon processing your order, we will contact you to further advise of your options.)
The time frame for order delivery is divided into two parts:
1: processing time.
Order verification, quality check, and packaging. Processing time usually takes 24-48 hours.
2: shipping time.
Once an order has shipped (24 to 72 hours) You will receive an email with the tracking number and the package should deliver to you within 5 business days.
For whichever reason you did not receive a tracking number within 72 hours, feel free to contact us at: info@topmedicalmobility.com
RETURNS:
We offer a 30-day return policy if you are not 100% satisfied with your product.
These are the products included in the 30-day return policy:
Electric wheelchairs.
Manual wheelchairs.
Lightweight wheelchairs.
Electric scooters.
Power lifts.
Walkers.
Rollators.
Patient Lifts
Wheelchair Ramps
Walkers & Rollators
To qualify for a return you will need to contact us first and obtain a RA# and return address.
All items must come back in their original packaging and in good/unused condition and must be received back at the warehouse within 30 days.
There is a 15% restocking fee and the customer is responsible for all shipping fees associated with the order.
Please note that all returns must be shipped back to us within 72 hours of receiving the return label or the return authorization. If the item is not sent out within 72 hours of return approval especially if the item comes back after the 30 days expires we will no longer be able to accept the return and the customer will be required to arrange for the item to be picked back up from us.
We do not currently offer returns for:
Wheelchair cushions.
Ultra-lightweight chairs.
Custom orders.
Parts.
Accessories.
Slings for patient lifts
Demo & Or Custom orders at discounted pricing.
in case you receive your Item damaged, we require that you get in touch with us within 48 hours of delivery to report the damages in order to consider it damage upon delivery.
(For items marked as custom orders please read in the bottom of this page)
Please note that we cannot take any cancellations and or returns on any custom orders (Items marked custom item) after production starts (24 hours)
If a customer refuses the package at the time of delivery, then the customer will be responsible for all shipping fees.
*Please note that during these difficult inflation times Items may take longer than usual to process and ship. your kind patience is much appreciated. 
It is also Important to take note  that while we do offer free shipping on all items above $99 however, when ordering certain heavy Items to residential addresses there may be a liftgate delivery fee associated with the carrier amd or for other orders with special delivery.that we just pass on to you we will advise you after placing the order if that's the case.
** Custom Orders **
by ordering any item stated to be a custom product and or Top Medical Exclusive Item, you agree that we have a very strict return policy on items shipping overseas through custom ordered. For these special orders we will not accept any returns or refunds after placing an order. if an Item arrives damaged we will work directly with you to fully troubleshoot the product and to get all parts needed to make sure your product is in working and good condition. In case we are not able to get the product to work after making all efforts of troubleshooting and providing damaged parts (maximum 30 days) and or if it is determined that the item cannot be fixed then we will go ahead and issue a refund and or replace the device for you. We require you to report any shipping damages or defects within 48 hours of shipping.
MANUAL/INSTRUCTIONS
Videos