Posted on
August 31, 2023
in
5 Best Wheeled Over Bed Tables For Patient Home Care in 2023
Wheeled over bed tables are invaluable companions in patient home care, offering a versatile and convenient surface for various activities right from the comfort of the bed. These tables provide a stable platform for eating, reading, working on a laptop, or engaging in other activities without the need to leave the bed.
When caring for a loved one who is recovering from an illness, injury, or surgery at home, having the right tools and equipment is essential for providing them with comfort and convenience. One such tool that can significantly enhance the caregiving experience is a wheeled over bed table. These versatile tables offer a convenient surface for patients to eat, work, read, or engage in other activities from the comfort of their bed. In this blog, we'll explore the top 5 wheeled over bed tables that are perfect for patient home care.
Who Can Benefit From Wheeled Over Bed Tables?
Wheeled over bed tables offer a range of benefits and can be beneficial to various individuals in different situations. The versatility and convenience they provide make them valuable tools in enhancing comfort and functionality during home care.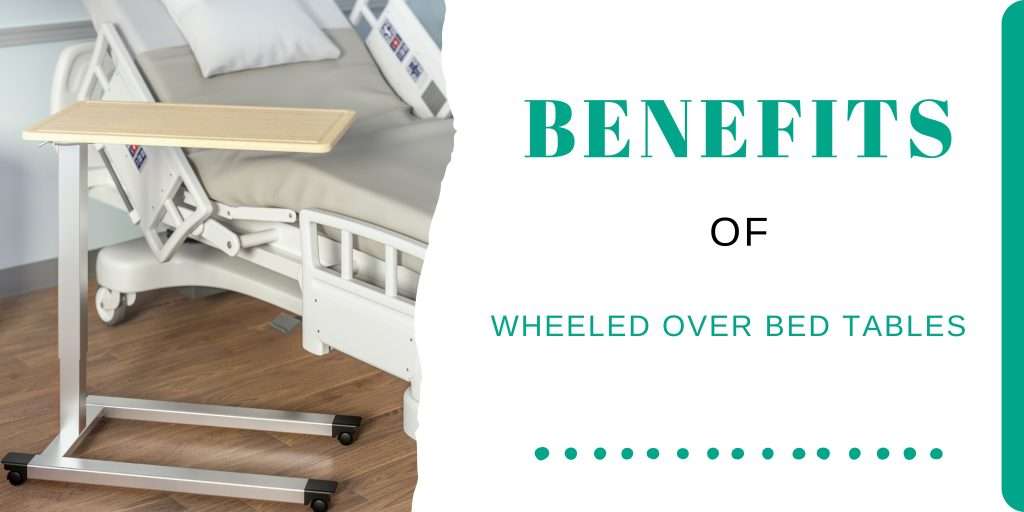 1. Patients Recovering from Surgery: Individuals recuperating from surgeries, such as joint replacements or abdominal procedures, often experience limited mobility. Wheeled overbed tables enable them to access meals, medications, and activities without straining or risking injury.
2. Elderly Individuals: Seniors with reduced mobility or frailty can find wheeled over bed tables especially helpful. These tables provide a convenient surface for meals, reading, hobbies, and other activities without requiring them to leave their bed or chair.
3. Patients with Chronic Illnesses: Those managing chronic illnesses that affect their energy levels, such as chronic obstructive pulmonary disease (COPD) or heart failure, can benefit from having essentials within easy reach. Overbed tables support their daily routines without exerting unnecessary effort.
4. Patients Undergoing Rehabilitation: Individuals undergoing physical therapy or rehabilitation may use wheeled overbed tables to perform exercises, work on therapies, or engage in other therapeutic activities from a comfortable position.
5. People with Limited Mobility: Individuals with conditions such as arthritis, multiple sclerosis, or spinal cord injuries may have difficulty moving around. Wheeled over bed tables make it easier for them to perform tasks while maintaining their comfort and reducing strain.
Top 5 Wheeled Over Bed Tables You May Buy:
Discover the top wheeled over bed tables designed to enhance comfort and convenience during home care. These versatile tables offer a stable surface for meals, activities, and more, right from the comfort of your bed or chair. With adjustable heights, tiltable tabletops, and smooth-rolling casters, these tables cater to various needs. Ideal for post-surgery recovery, elderly care, or anyone seeking accessible convenience, these top wheeled over bed tables provide a practical solution for maintaining independence and improving the overall home care experience.
1. Drive Medical Overbed Table Non-Tilt Adjustment Handle
2. Invacare Overbed Table with Auto-Touch
3. Carex Overbed Table with Swivel Wheels
4. Vive Health Compact Overbed Table
5. McKesson Overbed Table Non-Tilt Spring Assisted Lift
Conclusion
Wheeled over bed tables play a crucial role in enhancing the comfort and convenience of patients during home care. When selecting the best option, consider factors such as adjustability, mobility, and durability. These five wheeled over bed tables provide a range of features that cater to various needs, ensuring that patients can maintain their independence and engage in activities comfortably from their bedside. Always consult with healthcare professionals and consider the patient's preferences before making a choice, ensuring a positive and supportive caregiving experience.
Experience the convenience of wheeled over bed tables available at Top Medical Mobility. Our carefully curated selection of wheeled over bed tables offers versatile solutions for patients and caregivers alike. Designed with adjustable heights, user-friendly features, and smooth mobility, these tables provide a stable surface for meals, activities, and more right from your bedside. Whether you're recovering from surgery, managing a chronic condition, or seeking greater comfort during home care, our wheeled over bed tables ensure accessibility and enhance your quality of life. Explore our range to find the perfect fit for your needs at Top Medical Mobility.