Posted on
March 30, 2022
in
Four Benefits of Buying A Shower Bench for Elderly
Four Benefits of Buying A Shower Bench for Elderly
Shower benches are a great way to improve your bathing experience. They provide a Bathroom safety equipment and comfortable place to sit while you shower, which can make it easier to stay in the shower for a longer period of time. This can be especially beneficial if you have mobility issues or find it difficult to stand for long periods of time.
There are different types of shower benches available, so be sure to choose one that is the right size and style for your needs. You can find benches that are made from a variety of materials, including wood, plastic, and metal. Some benches even come with storage space, which can be handy for storing shampoo and soap.
If you're looking for a way to make your shower experience more comfortable, consider adding a shower bench to your bathroom.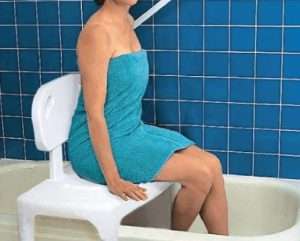 Benefits of Shower Benches
Improves Hygiene
Shower benches provide a much-needed surface to sit on while showering, which improves hygiene. As people age, they may find it difficult to stand for extended periods of time, making a bench a necessity for comfortable and safe showering. Additionally, pregnant women or those who are recovering from surgery may also find a bench helpful for maintaining good hygiene.
Increases Safety
For elderly individuals or those with mobility issues, they can also increase safety in the shower. By providing a place to sit, people can avoid falls and injuries that can occur when stepping in and out of the shower. Benches can also be helpful for those who need to bathe their young children.
More Independence
For those who are unable to bathe themselves, a shower bench can provide more independence. With a bench, they can sit and bathe themselves without needing assistance. This can be a great help for those who live alone or who have trouble getting around.
Storage
What's not to love about a shower bench? It allows you the option of storing more than just your shampoo and body wash; I mean come on, who doesn't need some extra organisation in their bathroom! This sturdy little shelf can hold everything from facial scrubs all the way down to any other cosmetics or necessities that may arise throughout daily life.
Things To Consider Before Buying A Shower Bench For Elderly:
Size: Make sure to choose one that is the right size for your needs.
Type of material: Consider the type of material the bench is made from and how easy it is to clean.
Weight limit: Some benches have a weight limit, so be sure to choose one that can hold your weight.
Storage Space: If you need storage space, make sure to choose a bench that has this feature.
Type of shower: Not all benches will work with all types of showers. Make sure to choose one that is compatible with your shower.
Price: Shower benches can vary in price, so be sure to find one that fits your budget.
If you are in the market for a shower bench, be sure to check out Top Medical Mobility. We carry a wide variety of benches that will make your bathing experience more comfortable and safe. With our help, you can find the perfect bench to fit your needs and lifestyle.Contact us today and we'll be happy to help https://www.topmedicalmobility.com/