Description
ProBasics Two-Button Folding Walker with Wheels and Roll-Up Seat (Case of 2)
ProBasics Two-Button Folding Walker with folding Seat and Wheels that provides patients with the convenience of a rollator and the functionality of a walker.  Nylon seat hooks on frame for a secure seat. When not in use, it rolls up and stores on the frame allowing for a full stride. Features easy-to-use push button mechanisms allowing each side to operate independently for movement through narrow spaces. Supports patient weights up to 300 pounds.
For individuals seeking a reliable mobility aid that combines convenience, stability, and comfort, the Walker with folding Seat and Wheels is an excellent solution. This innovative mobility device caters to individuals with varying mobility levels, providing support for walking, resting, and moving around with ease. In this article, we'll explore the features and benefits of the foldable walker with seat and wheels, highlighting its role in enhancing independence and overall quality of life.
The Walker with folding Seat and Wheels prioritizes user safety and stability. The sturdy frame, reinforced with durable materials, provides robust support for users during walking or sitting. The addition of wheels further enhances maneuverability, allowing for smooth movement on different surfaces, while the braking system ensures secure and controlled stops.
This innovative design allows individuals to maintain stability while walking and, when needed, take a comfortable seat to rest. Whether you're strolling through a park, shopping at the mall, or simply need a moment of respite, a walker with folding seat provides the freedom to move confidently and rest when necessary, promoting independence and ease in daily life.
Safe & Comfortable Walker with folding Seat and Wheels
A walker with folding seat is a versatile mobility aid that combines the benefits of a walking support device with the convenience of a built-in seat. These walkers provide users with a stable platform for walking while offering the flexibility to take a comfortable seated break whenever needed.
The walker with folding seat design is ideal for those who may require rest during outings, shopping trips, or outdoor activities. It not only promotes independence but also ensures that individuals can safely and comfortably continue their mobility while having a convenient seat at their disposal whenever a break is required.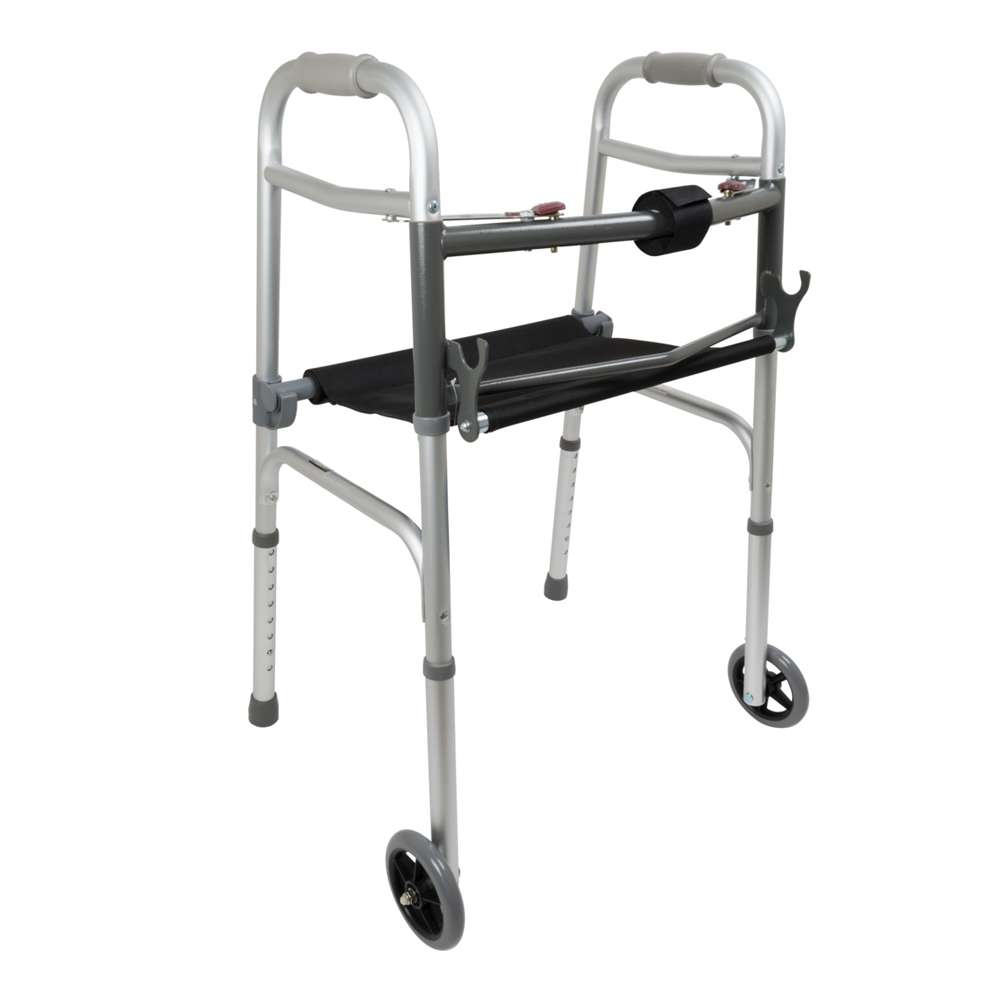 The Walker with folding Seat and Wheels is an indispensable tool for individuals seeking a versatile and functional mobility aid. Its combination of stability, safety, comfort, and portability makes it an excellent choice for those with varying mobility levels.
By investing in a foldable walker with seat and wheels, individuals can reclaim their independence, improve their quality of life, and continue to stay active and engaged in their daily routines. Whether indoors or outdoors, this mobility aid serves as a reliable companion, providing support and comfort for every step of the journey.
Durable nylon roll-up seat that can be placed on handy hooks when not in use
Adjustable height settings
Easy-to-use push button mechanisms
Front cross braces near top of walker to allow for full stride
Each side operates independently to allow for easy movement through narrow spaces
Vinyl contoured hand grip for added comfort
Attractive, easy-to-clean aluminum frame
Folds flat for transport and storage
Weight Capacity: 300 lb
HCPCS* Code: E0143 (with wheels)
E0156 (seat)
PRODUCT SPECIFICATION
| | |
| --- | --- |
| Weight Capacity | 300 lbs. |
| Product Weight | 8.45 lbs. |
| Folded Depth | 4″ |
| Width Between Handles | 18″ |
| Number of Wheels | 2 |
| Front Wheel Size | 5″ |
| Recommended User Height | 5'2″ – 6'4″ |
| HCPCS | E0143, E0156 |
| Warranty on Frame | Lifetime Limited |
| Warranty on Wearable Parts | One Year Limited |
Shipping & Returns
SHIPPING:
Our goal is to offer you the best shipping options, no matter where you live. Every day, we deliver to hundreds of customers across the US, ensuring that we provide the very highest levels of responsiveness to you at all times.
(Please note that shipping to Hawaii and Alaska may be more expensive. if there is any changes in shipping rates for these two locations upon processing your order, we will contact you to further advise of your options.)
The time frame for order delivery is divided into two parts:
1: processing time.
Order verification, quality check, and packaging. Processing time usually takes 24-48 hours.
2: shipping time.
Once an order has shipped (24 to 72 hours) You will receive an email with the tracking number and the package should deliver to you within 5 business days.
For whichever reason you did not receive a tracking number within 72 hours, feel free to contact us at: info@topmedicalmobility.com
RETURNS:
We offer a 30-day return policy if you are not 100% satisfied with your product.
These are the products included in the 30-day return policy:
Electric wheelchairs.
Manual wheelchairs.
Lightweight wheelchairs.
All other Wheelchairs
Electric scooters.
Power lifts.
Walkers.
Rollators.
Patient Lifts
Wheelchair Ramps
Walkers & Rollators
Hospital/Home Care Beds
Mattresses
Geri Chairs
Overbed tables
Bathroom Transfer Benches
To qualify for a return you will need to contact us first and obtain a RA# and return address.
All items must come back in their original packaging and in good/unused condition and must be received back at the warehouse within 30 days.
There is a 15% restocking fee and the customer is responsible for all shipping fees associated with the order.
Please note that all returns must be shipped back to us within 72 hours of receiving the return label or the return authorization. If the item is not sent out within 72 hours of return approval especially if the item comes back after the 30 days expires we will no longer be able to accept the return and the customer will be required to arrange for the item to be picked back up from us.
We do not currently offer returns for:
Wheelchair cushions.
Cushions.
Ultra-lightweight chairs.
Custom orders.
Parts.
Any Accessories.
Slings for patient lifts
Demo & Or Custom orders at discounted pricing.
Personal Care items
in case you receive your Item damaged, we require that you get in touch with us within 48 hours of delivery to report the damages in order to consider it damage upon delivery.
(For items marked as custom orders please read in the bottom of this page)
Please note that we cannot take any cancellations and or returns on any custom orders (Items marked custom item) after production starts (24 hours)
If a customer refuses the package at the time of delivery, then the customer will be responsible for all shipping fees.
*Please note that during these difficult inflation times Items may take longer than usual to process and ship. your kind patience is much appreciated.
It is also Important to take note  that while we do offer free shipping on all items above $99 however, when ordering certain heavy Items to residential addresses there may be a liftgate delivery fee associated with the carrier amd or for other orders with special delivery.that we just pass on to you we will advise you after placing the order if that's the case.
** Custom Orders **
by ordering any item stated to be a custom product and or Top Medical Exclusive Item, you agree that we have a very strict return policy on items shipping overseas through custom ordered. For these special orders we will not accept any returns or refunds after placing an order. if an Item arrives damaged we will work directly with you to fully troubleshoot the product and to get all parts needed to make sure your product is in working and good condition. In case we are not able to get the product to work after making all efforts of troubleshooting and providing damaged parts (maximum 30 days) and or if it is determined that the item cannot be fixed then we will go ahead and issue a refund and or replace the device for you. We require you to report any shipping damages or defects within 48 hours of shipping.
MANUAL/INSTRUCTIONS