Comodita Tipo Stand Up Advance Walker
$395.00
-

Description
Comodita Tipo Stand Up Walker Advance
The Comodita Tipo Stand Up Walker Advance enables users to stand upright, supporting their weight on their forearms and not the hands and wrist, helping to relieve tension away from shoulders and upper back. It is the perfect rollator for people who want to live a more active lifestyle. In addition to indoor use, the pneumatic tires make it perfect for outdoor use.
The Comodita Tipo Stand Up Walker is an innovative mobility device designed to provide support and assistance for individuals with mobility challenges. Created by Comodita, a company known for its adaptive and user-centered solutions, this walker offers a unique feature known as "stand-up" functionality.
The modern patented design and sturdy construction of the COMODITÀ Tipo stand up  Rolling Walker make it one of the safest and most stylish walkers in the market.
The 12" pneumatic front wheels and 10" rear wheels will help you overcome obstacles with ease, allowing you to use it inside and outside the house.
Built to support weights of up to 300 lbs, it is tested and approved under international testing standards for walkers and rollators.
The COMODITÀ Tipo stand up advance Rolling Walker is built with the best materials available to ensure the highest safety you can find.
In addition, the COMODITÀ Tipo stand up advance Rolling Walker comes  with the exclusive COMODITÀ Pisa removable cup holder, cane holder, washable nylon shopping bag and transport bag (easily double folded for storage or transportation).
The Comodita Tipo Stand Up Walker is particularly beneficial for individuals who face challenges with transitioning between sitting and standing, such as seniors, individuals with lower limb impairments, and those recovering from surgeries or injuries. By offering a reliable support system and innovative stand-up assistance, this walker aims to enhance users' mobility and independence in their daily lives.
Comodita Tipo Stand Up Walker FEATURES
• Extra-large 12" front aluminum wheels and 10″ rear wheels with pneumatic tires, for safer indoor and outdoor use
• Wide, comfortable nylon seat
• Adjustable handle height
• Adjustable handle length and angle
• Padded ergonomic backrest
• Convenient removable Pisa cup holder included
• Cane holder included
• Convenient travel bag included
• Hand brake locks for safety while sitting
• Double-fold action makes it very compact and easy to storage and transport
• Four light reflectors at the front and two at the back for additional safety
• Nylon bag with light reflecting strap for added security
• Double-fold action
• Practical travel bag for transportation
• Removable, washable nylon bag to transport personal items
• Curb climber
• Adjustable handle height
• Adjustable handle length and angle
• Adjustable backrest​​​​​​​
​​​​​​​• Pneumatic wheels
• Cup holder
• Cane holder
• Shopping bag
• Transport Bag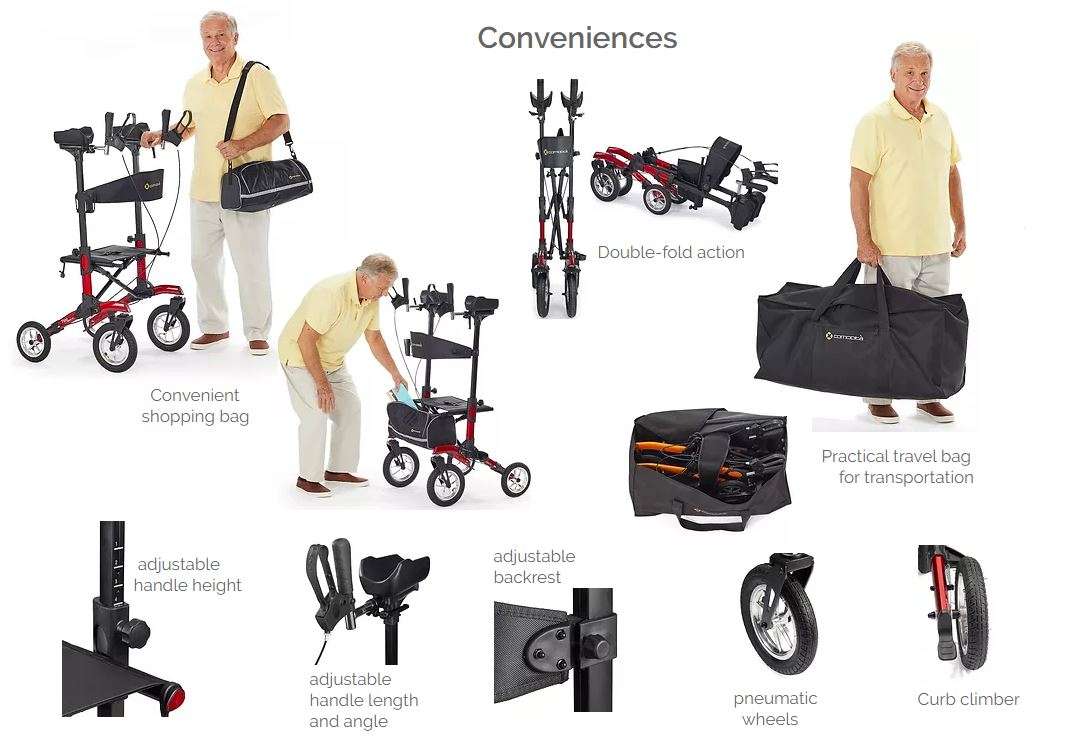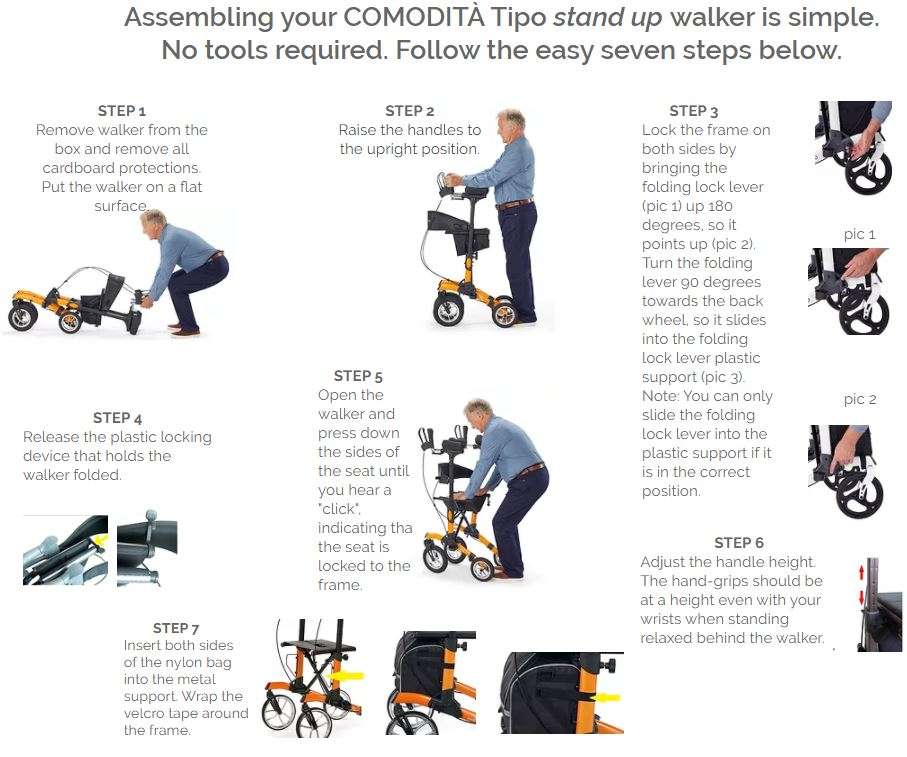 PRODUCT SPECIFICATION
Unit weight: 

23.5 lb. (10.7 kg)

Weight capacity: 

300 lb. (136 kg)

Recommended user height: 

5'0″ to 6'0″ (1,52 m p/ 1,82 m)

Overall height: 

40" / 46" (101.5 cm / 116 cm)

Overall length: 

28″ (72 cm)

Overall width: 

25" (63.5 cm)

Folded measurements: 

35" x 16″ x 15″ (89 cm x 41 cm x 38 cm)

Front wheel diameter: 

10" (25 cm)

Back wheel diameter: 

8" (20 cm)

Seat height from floor: 

21" (53 cm)

Seat depth: 

11" (28.5 cm)

Seat width: 

17½" (44 cm)

Size of nylon bag:  

17" W x 8" D x 10" H   (43 cm L x 20 cm P x 25 cm H)

Size of transport bag: 

37½" W x 13″D x 16″H (95 cm L x 33 cm P

 x 40 cm H)

Recommended tire pressure : 

20 PSI
Shipping & Returns
SHIPPING:
Our goal is to offer you the best shipping options, no matter where you live. Every day, we deliver to hundreds of customers across the US, ensuring that we provide the very highest levels of responsiveness to you at all times.
(Please note that shipping to Hawaii and Alaska may be more expensive. if there is any changes in shipping rates for these two locations upon processing your order, we will contact you to further advise of your options.)
The time frame for order delivery is divided into two parts:
1: processing time.
Order verification, quality check, and packaging. Processing time usually takes 24-48 hours.
2: shipping time.
Once an order has shipped (24 to 72 hours) You will receive an email with the tracking number and the package should deliver to you within 5 business days.
For whichever reason you did not receive a tracking number within 72 hours, feel free to contact us at: info@topmedicalmobility.com
RETURNS:
We offer a 30-day return policy if you are not 100% satisfied with your product.
These are the products included in the 30-day return policy:
Electric wheelchairs.
Manual wheelchairs.
Lightweight wheelchairs.
Electric scooters.
Power lifts.
Walkers.
Rollators.
Patient Lifts
Wheelchair Ramps
Walkers & Rollators
To qualify for a return you will need to contact us first and obtain a RA# and return address.
All items must come back in their original packaging and in good/unused condition and must be received back at the warehouse within 30 days.
There is a 15% restocking fee and the customer is responsible for all shipping fees associated with the order.
Please note that all returns must be shipped back to us within 72 hours of receiving the return label or the return authorization. If the item is not sent out within 72 hours of return approval especially if the item comes back after the 30 days expires we will no longer be able to accept the return and the customer will be required to arrange for the item to be picked back up from us.
We do not currently offer returns for:
Wheelchair cushions.
Ultra-lightweight chairs.
Custom orders.
Parts.
Accessories.
Slings for patient lifts
Demo & Or Custom orders at discounted pricing.
in case you receive your Item damaged, we require that you get in touch with us within 48 hours of delivery to report the damages in order to consider it damage upon delivery.
(For items marked as custom orders please read in the bottom of this page)
Please note that we cannot take any cancellations and or returns on any custom orders (Items marked custom item) after production starts (24 hours)
If a customer refuses the package at the time of delivery, then the customer will be responsible for all shipping fees.
*Please note that during these difficult inflation times Items may take longer than usual to process and ship. your kind patience is much appreciated. 
It is also Important to take note  that while we do offer free shipping on all items above $99 however, when ordering certain heavy Items to residential addresses there may be a liftgate delivery fee associated with the carrier amd or for other orders with special delivery.that we just pass on to you we will advise you after placing the order if that's the case.
** Custom Orders **
by ordering any item stated to be a custom product and or Top Medical Exclusive Item, you agree that we have a very strict return policy on items shipping overseas through custom ordered. For these special orders we will not accept any returns or refunds after placing an order. if an Item arrives damaged we will work directly with you to fully troubleshoot the product and to get all parts needed to make sure your product is in working and good condition. In case we are not able to get the product to work after making all efforts of troubleshooting and providing damaged parts (maximum 30 days) and or if it is determined that the item cannot be fixed then we will go ahead and issue a refund and or replace the device for you. We require you to report any shipping damages or defects within 48 hours of shipping.
MANUAL/INSTRUCTIONS