Save $102.5
Top Medical Electric Patient Transfer Lift Chair
$1,899.00 – $1,995.00
Our Patient Lift Chair allows you to transfer the patient from their bed, from the couch, to the bathroom, wheelchair, and even transfer the patient directly on to a car seat.
-

Description
Effortlessly transfer patients with electric patient transfer chair. Our Patient transfer lift chair has been rated in top 5 mobility transferring devices.
(Custom product lead time 2-3 weeks )
Introducing our Electric Patient transfer Lift Chair, a revolutionary assistive device that sets the gold standard in patient mobility. At Top medical mobility, we proudly stand behind this product, offering a 1-year warranty and dedicated customer service for your peace of mind.
This versatile chair is meticulously designed for a diverse range of patients, including wheelchair patients, bariatric patients, bedridden individuals. This can also be used by disabled people, and those with lower limb fractures to ensure maximum safety and comfort.
This Patient Transfer Lift Chair transcends traditional furniture, seamlessly combining comfort with cutting-edge functionality. Its innovative lifting mechanism facilitates effortless transitions from seated to standing. The patient transfer lift chair fosters independence and reduces the risk of falls. Perfect for elderly individuals seeking to maintain autonomy or those recovering from surgery. This chair eases daily movements and is a practical addition to any home.
Manufactured to endure the rigors of hospital and long-term care settings, this chair remains remarkably affordable for home care use. It's easy operation, maneuverability in confined spaces, and emergency lowering device enhance user safety. The lower base conveniently fits under most beds, and an optional extended leg version allows access to wider objects.
Our transfer lift chair is a game-changer. It offers unparalleled ease in transferring patients from bed to wheelchair, couch to bathroom, and even onto a car seat. Embrace a new level of convenience, comfort, and dignity with this medical marvel.
This Patient Lift Chair allows you to transfer the patient from their bed, from the couch, to the bathroom, wheelchair, and even transfer the patient directly on to a car seat. the legs is designed to go underneath almost everything and place the user easily right on to the seat/sling. there is also an option of an extended leg version allowing you to get into wider objects.
What is Patient Transfer Lift Chair?
A patient transfer chair is a vital piece of medical equipment designed to ensure the safe and efficient movement of individuals with limited mobility. This specialized chair provides a comfortable and secure seating arrangement, complete with supportive features such as adjustable armrests and footrests.
Equipped with sturdy wheels and brakes, it allows healthcare professionals to effortlessly transport patients between rooms, ensuring their well-being and minimizing the risk of injury during transfers. Patient transfer chairs play a crucial role in maintaining both the comfort and dignity of individuals in need of medical assistance while simplifying the tasks of caregivers and medical staff.
Patient Transfer Chair has changed the way that patients can be transferred with ease and convenience and importantly has been a pleasure for any caregivers and family members. we have sold hundreds of this since 2020 and we have had very minimal returns and or complaints and has been rated in the top 5 of mobility transferring devices.
we are looking forward to further advancement and updated models to come. Browse our range of Patient Lifts and Slings
Features of our Patient Transfer Lift Chair:
The Electric Patient Transfer Lift Chair boasts many features prioritizing safety, convenience, and comfort for individuals with limited mobility.
Specifications of Patient Lift Chair
Dimensions of Electric Patient Transfer Lift Chair
FIXED LEGS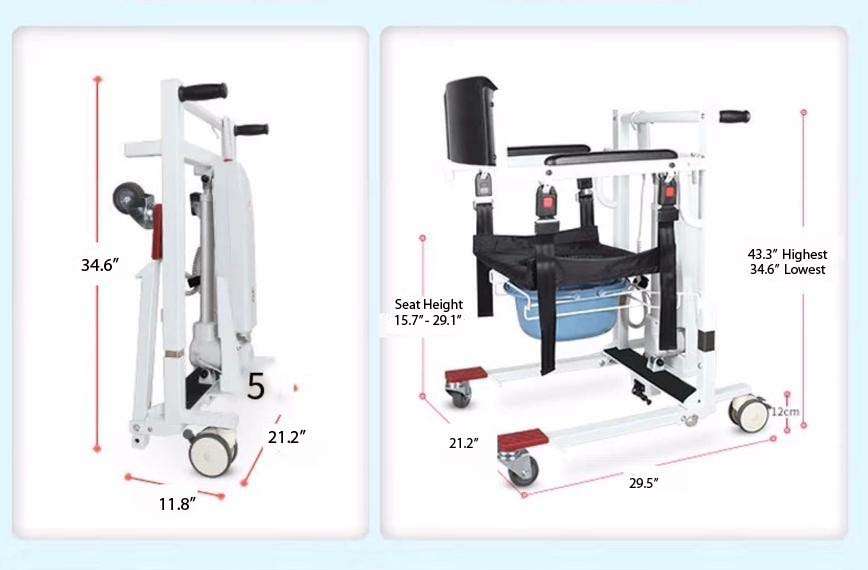 OPEN LEGS – EXTENDED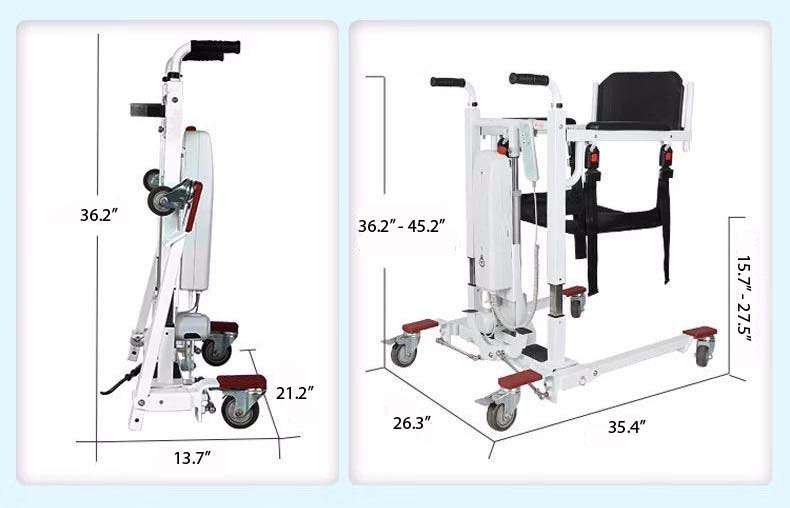 Special Features of Patient Lift Chair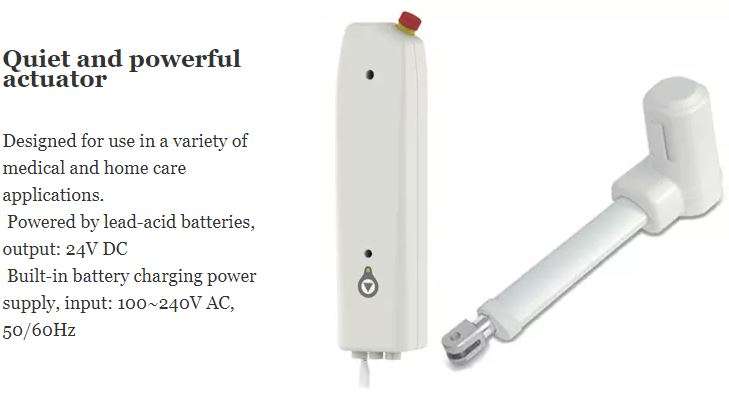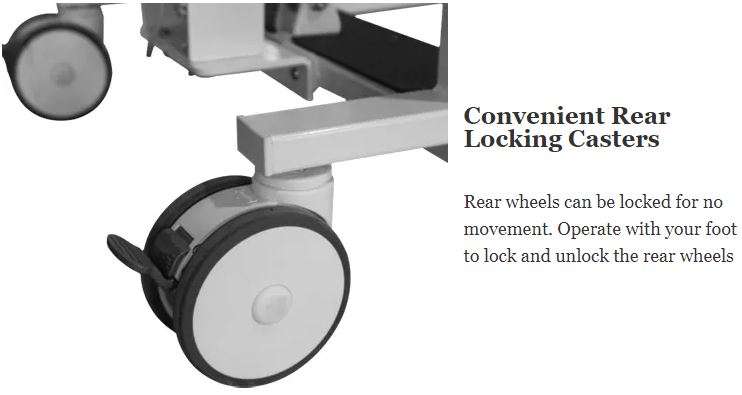 Innovative Lifting Mechanism:

The Electric Patient

transfer

Lift Chair features a robust lifting mechanism. This enables effortless transitions from seated to standing positions, promoting independence and reducing the risk of falls.

Safety Priority:

Maximum patient safety is ensured with an integrated emergency lowering device. It is built into the actuator, providing a reliable safeguard during transfers.

Maneuverability in Confined Spaces:

Designed for easy operation and maneuverability in confined spaces. This makes it highly user-friendly in various home and clinical settings.

Versatile Transfer Options:

This chair allows seamless transfers from bed to wheelchair, couch to bathroom, and even onto a car seat. This provides unparalleled convenience for caregivers and patients alike.

Lower Base Design:

The lower base is designed to fit under most beds, catering to different patient needs and spatial constraints.

Durable Construction:

This

chair is

crafted for demanding hospital and long-term care use. This chair is built to withstand rigorous conditions and it is  an affordable option for home care.

Extended Leg Version:

An optional extended leg version offers flexibility, allowing access to wider objects and accommodating diverse transfer scenarios.

Adjustable Armrests and Footrests:

Personalized comfort is provided through adjustable armrests and footrests, enhancing the overall user experience.

Sturdy Wheels with Brakes:

Equipped with sturdy wheels and brakes, ensuring secure transportation between rooms while maintaining patient safety.

Trusted Manufacturing: Manufactured by a trusted partner in China. This chair comes with a 1-year warranty and easy access to customer service, offering peace of mind to users and caregivers.
Product Specifications of our Patient Transfer Lift Chair
Handset Controller:

Intuitive and easy-to-use controller for seamless operation of the lift chair, allowing precise control during transfers.

Handles:

Sturdy handles strategically placed for additional support, aiding patients in maintaining balance and stability.

Backrest:

Ergonomically designed backrest for optimal comfort. It provides a supportive and comfortable seating experience.

Belt Buckle:

Secure belt buckle mechanism ensures the safety and stability of the patient during transfers.

Bedpan:

Conveniently integrated bedpan for added versatility, catering to the diverse needs of patients.

3″ Front Casters:

Maneuverable front casters for smooth navigation and easy movement of the lift chair.

Support Legs:

Additional support legs for enhanced stability during transfers, contributing to overall safety.

Rear Casters Bracket:

Sturdy bracket supporting the rear casters. This ensures durability and longevity of the lift chair.

Emergency Button:

Integrated emergency button for immediate halting of operations. This is helpful in case of unforeseen circumstances, prioritizes the safety of the user.

Lifting Frame:

The core lifting mechanism responsible for seamless transitions. This is helpful in lifting patients easily and efficiently.

Battery:

A Power-efficient battery ensures a reliable power source for the lift chair. This allows for flexibility in placement.

Bushing:

Quality bushing components contribute to the smooth and silent operation of the lift chair.

Motor:

High-performance motor for the efficient functioning of the lifting mechanism. This provides consistent and reliable support.

Width Adjusting Pedal:

A Pedal mechanism for adjusting the width of the lift chair, accommodating different transfer scenarios.

Connecting Rods:

Robust connecting rods ensure the structural integrity of the lift chair. This contributes to the durability of our transfer lift chair.

4″ Rear Casters with Brake:

Larger rear casters with brake mechanism. This enhances stability and safety during transfers.

Armrests:

Adjustable armrests for personalized comfort and additional support during seating and transfers.

Short Latch:

Convenient short latch mechanism for securing specific components. This is also helpful in adjusting the configuration of the lift chair.

Feet Pedals:

Pedals for the feet provide additional support and comfort during transfers.

Toilet Cushion:

Specifically designed cushion for toileting purposes. This enhances the versatility of the lift chair.

Supporter:

Additional support mechanism ensuring the safety and comfort of the user during transfers.

Long Latch:

Extended latch mechanism for securing components or adjusting the configuration of the lift chair effectively.
Benefits of using our Patient Transfer Chair
Using a patient transfer chair can offer various benefits for individuals with mobility challenges. This chair is also beneficial for those who require assistance in moving from a sitting to a standing position. Here are some potential advantages:
Enhanced Mobility and Independence: Lift chairs are designed to help individuals transition from a sitting to a standing position with ease. This promotes greater mobility and independence for people with limited strength or mobility.
Reduced Risk of Falls: The lift mechanism in these chairs can assist in lifting the person to a standing position. This reduces the risk of falls when attempting to stand independently.
Comfort and Support: Lift chairs often come with various reclining positions. This allows users to find a comfortable and supportive position that suits their needs.
Improved Circulation and Respiratory Function: Adjustable positions in lift chairs can aid in improving circulation and respiratory function. Elevating the legs can reduce pressure on the lower back and promote better blood flow.
Ease of Use: Many lift chairs come with simple-to-use controls, making them accessible for individuals with limited dexterity or cognitive abilities.
Increased Quality of Life: By providing a means for individuals to maintain independence and comfort, lift chairs can contribute to an improved quality of life.
Caregiver Assistance: For caregivers, lift chairs can make the transfer of individuals from a seated to a standing position more manageable. This in turn reduces the physical strain associated with lifting.
What does the Patient Transfer Lift Chair provide?
Easy and Secure Transportation: The Freedom Transfer Patient Lift ensures easy and secure transfer for individuals with limited mobility.
Enhanced Comfort at Home: Users can effortlessly move to their favorite spots in the living room, promoting more quality time with loved ones.
Improved Dining Experience: The patient lift facilitates the transfer to the dining room, enabling individuals to enjoy meals surrounded by friends and family.
Versatile Transfers: Smooth transfers are possible from the hospital room to different areas, ensuring a comfortable and pain-free experience.

Safe Bathroom Transfers: The lift supports safe transfers to the bathroom, and a portable commode pail can be conveniently attached when needed.
FAQ
How does a patient lift chair work?
"A patient lift chair typically has a motorized lifting mechanism operated by a remote control. By pressing the appropriate buttons on the remote, the chair's motor activates and raises or lowers the seat. The lifting action is controlled and smooth, allowing the user to comfortably transition to a standing or seated position.
Who can benefit from using a patient lift chair?
Can medical exclusive patient transfer lift chair be used in home settings?
What types of transfers can be performed using a transfer lift chair?
Are transfer lift chairs portable or can they be easily moved?
PRODUCT SPECIFICATION
| | | |
| --- | --- | --- |
| | Fix Legs | Open Legs – Extended |
| Seat Height Range: | 5.5″ – 64.17″ | 5.5″ – 64.17″ |
| Passable Width: | 21.25″ | 26.37″ |
| Foot Spacing: | 17.32″ | 23.6″ – 31.49″ |
| Max load capacity: | 330 lbs. | 330 lbs. |
| Product weight: | 88 lbs. | 99 lbs. |
Battery Life:

Lift 70 – 80 times on full charge

Frame material:

Powder coated Strong steel

Wheel:

front: 4″with brake castor, rear castor: 3″with brake

Lift Range:

15.5″ – 27.5″

Lifting Speed:

0.30″ –  per second

Motor:

Linear Actuator 24V/6000N

Input:

100-240V, 50/60HZ

Lift Sling:

High-quality  Patient Lift Sling or customized size

Battery:

High capacity rechargeable sealed lead acid type battery. 60-80 times

Warranty:

1-Year Warranty on frame, 6-month replacement warranty on Actuator, Control Box and Hand Controls
Shipping & Returns
SHIPPING:
Our goal is to offer you the best shipping options, no matter where you live. Every day, we deliver to hundreds of customers across the US, ensuring that we provide the very highest levels of responsiveness to you at all times.
(Please note that shipping to Hawaii and Alaska may be more expensive. if there is any changes in shipping rates for these two locations upon processing your order, we will contact you to further advise of your options.)
The time frame for order delivery is divided into two parts:
1: processing time.
Order verification, quality check, and packaging. Processing time usually takes 24-48 hours.
2: shipping time.
Once an order has shipped (24 to 72 hours) You will receive an email with the tracking number and the package should deliver to you within 5 business days.
For whichever reason you did not receive a tracking number within 72 hours, feel free to contact us at: info@topmedicalmobility.com
RETURNS:
We offer a 30-day return policy if you are not 100% satisfied with your product.
These are the products included in the 30-day return policy:
Electric wheelchairs.
Manual wheelchairs.
Lightweight wheelchairs.
All other Wheelchairs
Electric scooters.
Power lifts.
Walkers.
Rollators.
Patient Lifts
Wheelchair Ramps
Walkers & Rollators
Hospital/Home Care Beds
Mattresses
Geri Chairs
Overbed tables
Bathroom Transfer Benches
To qualify for a return you will need to contact us first and obtain a RA# and return address.
All items must come back in their original packaging and in good/unused condition and must be received back at the warehouse within 30 days.
There is a 15% restocking fee and the customer is responsible for all shipping fees associated with the order.
Please note that all returns must be shipped back to us within 72 hours of receiving the return label or the return authorization. If the item is not sent out within 72 hours of return approval especially if the item comes back after the 30 days expires we will no longer be able to accept the return and the customer will be required to arrange for the item to be picked back up from us.
We do not currently offer returns for:
Wheelchair cushions.
Cushions.
Ultra-lightweight chairs.
Custom orders.
Parts.
Any Accessories.
Slings for patient lifts
Demo & Or Custom orders at discounted pricing.
Personal Care items
in case you receive your Item damaged, we require that you get in touch with us within 48 hours of delivery to report the damages in order to consider it damage upon delivery.
(For items marked as custom orders please read in the bottom of this page)
Please note that we cannot take any cancellations and or returns on any custom orders (Items marked custom item) after production starts (24 hours)
If a customer refuses the package at the time of delivery, then the customer will be responsible for all shipping fees.
*Please note that during these difficult inflation times Items may take longer than usual to process and ship. your kind patience is much appreciated.
It is also Important to take note  that while we do offer free shipping on all items above $99 however, when ordering certain heavy Items to residential addresses there may be a liftgate delivery fee associated with the carrier amd or for other orders with special delivery.that we just pass on to you we will advise you after placing the order if that's the case.
** Custom Orders **
by ordering any item stated to be a custom product and or Top Medical Exclusive Item, you agree that we have a very strict return policy on items shipping overseas through custom ordered. For these special orders we will not accept any returns or refunds after placing an order. if an Item arrives damaged we will work directly with you to fully troubleshoot the product and to get all parts needed to make sure your product is in working and good condition. In case we are not able to get the product to work after making all efforts of troubleshooting and providing damaged parts (maximum 30 days) and or if it is determined that the item cannot be fixed then we will go ahead and issue a refund and or replace the device for you. We require you to report any shipping damages or defects within 48 hours of shipping.
MANUAL/INSTRUCTIONS